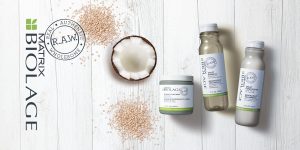 Introducing the new BIOLAGE R.A.W. range
BIOLAGE R.A.W. is a true game changer in the natural professional haircare market. The range offers the perfect balance between nature, beauty and performance. With BIOLAGE R.A.W. there is no compromising. Our powerful formulas not only have 100% consumer satisfaction, but they're good for the environment too. We carefully select natural ingredients from across the world, using them to create an experience that is unique and unbeatable.
BIOLAGE is  enriched with botanical extracts and formulated to nourish and bring out hairs natural beauty. Each range offers a unique combination of natural extracts to target your specific haircare needs.
Our team can advise you on the most suitable product range for you.
Introducing the NEW FULLDENSITY system of products.
This is a specialised range specifically for clients who feel their hair is noticeably thinning.
A full consultation would be offered to see if this product is suitable for you.
The NEW SUGARSHINE system. A 3-step service for 3X more shine, Instantly!
This collection is comprised of a range of TOTAL RESULTS systems that each have a tailored duo of a shampoo and conditioner. Each system has a particular hair care focus, ranging from damaged, to moisture, curl, blonde hair and more.
Ask in salon to find out which ones for you.
PREP-Faster blow dries, sky high volume and frizz-free smoothness.
PLAY- From revolutionary texture to super strong hold, moldable shape to high definition.
BOOST-Revolutionary drops! Link boosters with any STYLE LINK products, or use alone for instant GLOSS, VOLUME or HOLD.
PERFECT-Lock in full volume and body with lasting hold and shine with light airy textures.