June 2021
HAIR CARE
As you can imagine we have been colouring hair for many years.
I started hairdressing aged just 11 years old in my Aunty's hair salon, add that to the current and that's 45 years of experiences. Along side me are my fabulous team, some of which have been with me since we opened. They bring an additional wealth of expertise experience and skill to our team.
So it's fair to say over this time, we have built up a wealth of knowledge of all the do's and don'ts to care for coloured hair and permed hair, actually of which is very similar and with more clients now turning back to perm for volume or the big hair many of us desire, the care regime is similar for colour and perm.
The general rule when it comes to caring for chemically treated hair, is that it needs an extra bit of care.
When it comes to the preservation and condition of hair colour or perm, proper care and attention help to keep it shiny and the colour stay true for longer.
Here are some top tips below for looking after your hair…
The best way to care for your coloured or permed hair is to wash it less, it sounds simple but it's that easy. We would recommend washing it just one ot town times a week max. If you tend to get oily roots, we recommend just a light spray of dry shampoo to help it last an extra day. Don't over use the dry shampoo or it builds up on the scalp but a little once or twice a week is fine. Just make sure when you do shampoo your hair to pay extra attention to the scalp if you use dry shampoo.
No matter how great the colour or perm, the more you wash your hair, the faster the colour fades or the perm drops. If you try to cut down on excessive hair washing and your beautiful hair colour will last longer. Another plus is that it causes less drying and heat styling so if you want longer or thicker hair the less wear and tear you cause from over washing & drying the better.
When you have your hair chemically treated it makes sense to get our advice on what to use right ? Often products are purch while doing your shopping with no one to advise you what's good or not. As we offer a complete salon service we are happy to advise you and we would always recommend a product health update to check you are on the right shampoo and conditioner for your hair. Using your ordinary shampoo can actually damage the colour of your hair and wash it away. So many brands have plastic additives that not only stop the colour or perm taking as well but they can cause the results to not last as well.
If you're not sure of the best shampoo for your hair type and we have not asked then please ask us . Our hair stylists are here to help and offer advice to ensure your hair stays looking great.
Hair does get damaged through colouring and will become more fragile. It is common for some people to say their hair feels and looks dry after colouring, if it's not looked after properly. One of the biggest factors of healthy hair is hydration. Every time you wash your hair, use the conditioner too. It will form a protective barrier and prevent your hair colour from washing out. Deep conditioning masks are a great idea and a nice treat for your hair too.
We all know that heat styling tools can damage our hair. However, using excessive heat on coloured hair can cause the colour to fade and make hair look dry. If you can only air dry your hair, this is the best solution. However, if your hairstyle needs heated tools, just use them sparingly and turn down the heat.
You can book a free consultation to discuss your hair needs by calling us and making an appointment so we can create the perfect hairstyle for you.
Have a great June
Anna x
May 2021
This month its a blog for the guys or those of you who like to wear a shorter style.
Are you thinking about change ?
Or maybe just up your look and trying a new haircut style? Look no further we got you covered.
The best thing to do if you feel like a change is book in first for a free consultation.
If you book a wash & cut but then decide on the day for a re style there may not be enough time allocated so don't forget you can book the free consultation option a few days or weeks before your appointment.
When it comes to styling, there is much more to men's hair than short, medium, and long. Although length is a key part of a haircut but so is the parting, fringe, having a curl or taper fade and texture cut…
Fade haircuts are still one of the most popular and easiest men's hairstyle trends. They are everywhere because a fade can be added to any type, length, or style of. At the moment just like I predicted its been all about perms for the guys since coming back from lockdown no 3.
See our social media for some great before & after images.
Once you get your new look one thing we get asked a lot is what comb or brush to use, so here is a simple tutorial.
Brush or comb which works best…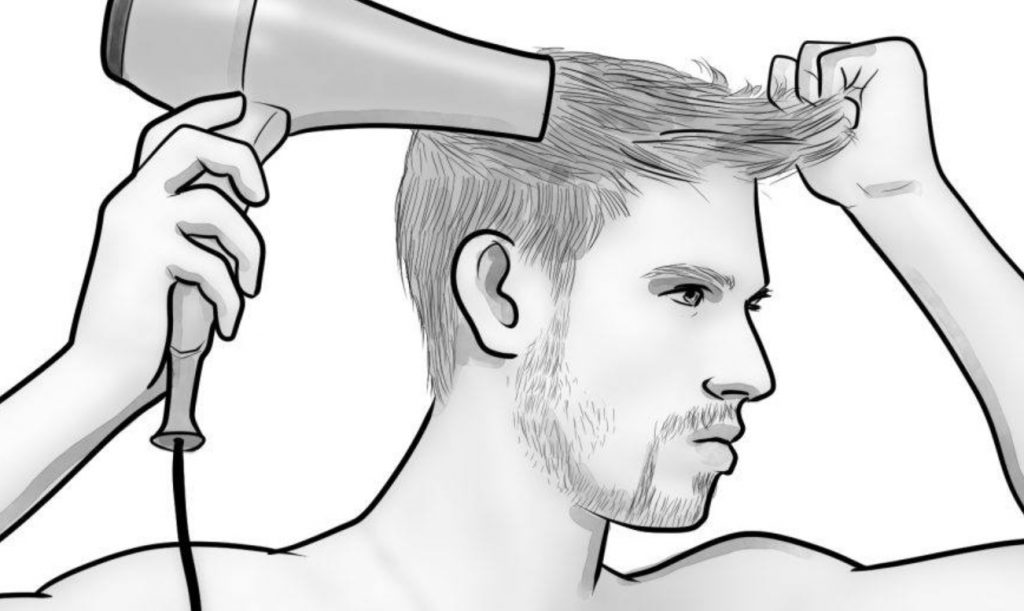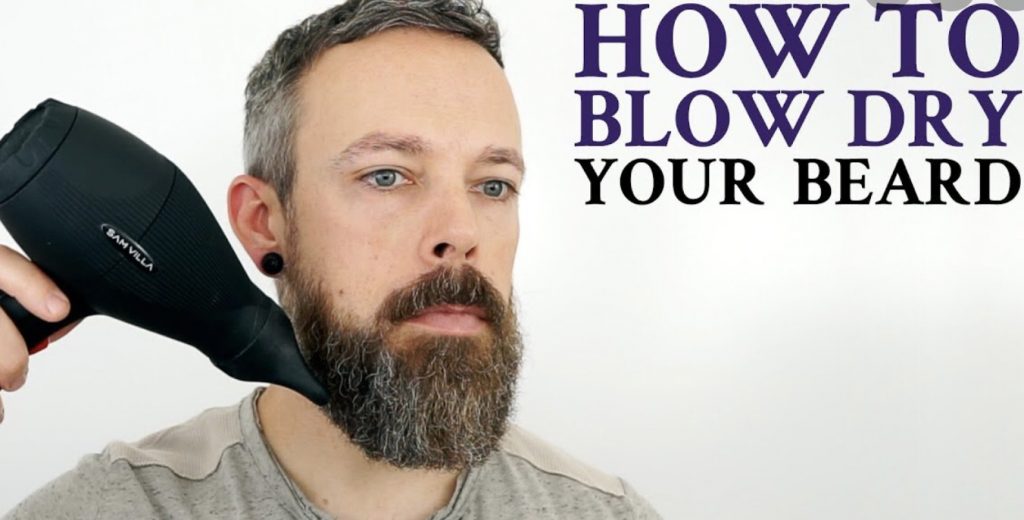 This is an often asked question with all sexes who visit the salon.
It seems simple but with all the options can be overwhelming but here is what you need to know.
Combs work best for straight hair, creating parts, styling hair or combing the conditioner through your hair but if you have thick, wavy, or curly hair types then always use a wide- toothed comb to untangle hair and help distribute hair product thoroughly.
Hair brushes are for guys too and they work best to add volume to fine, straight, and long hair. If its a vent brush your using which is more square at the sides that can be used on any styes but not curly hair as brushing curly hair sends it frizzy, only comb or brush curly hair when its wet.
Brushes also help to speed to the hair drying process.
There are special blow-drying paddle brushes that also help hair dry faster as well as round brushes to straighten hair.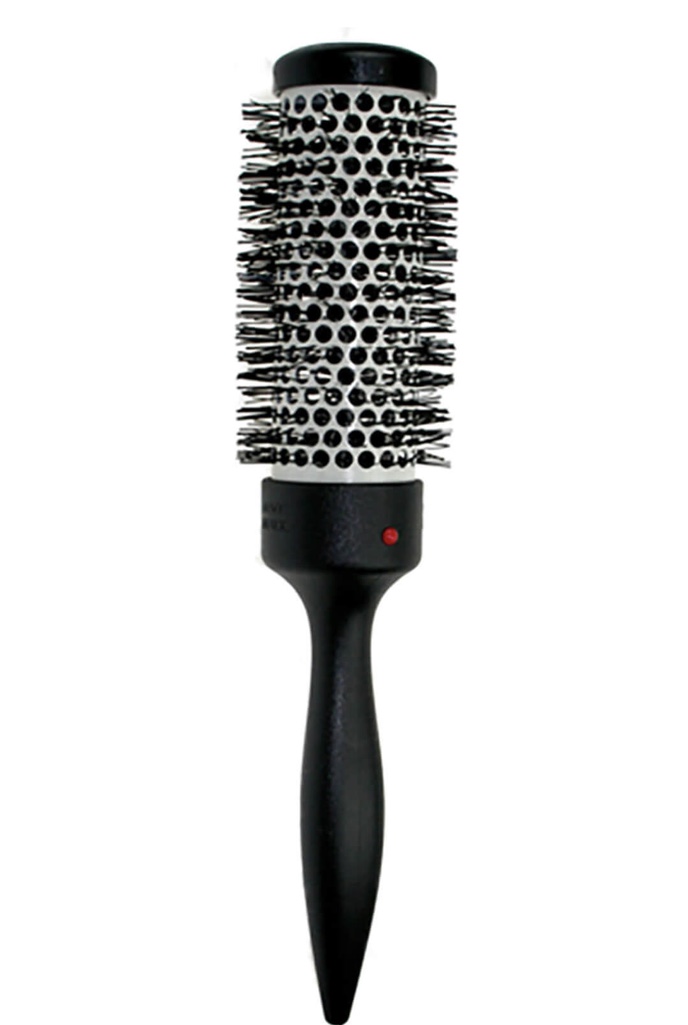 Brushing hair also helps distribute scalp oils and stimulate circulation or just do it because it feels good.
You can let hair dry naturally/air dry but if you blow dry your hair you will get a better finish. Blow drying hair cuts down on styling time, helps hair stand tall, and makes it easy to straighten hair.
If your hair is permed or curly its best to use a diffuser on the end of your dryer to stop the curl or perm from going fizzy.
By spending a bit of time on the drying it will give you a sharp salon finish look that sets any day off to a good start.
Start Blow drying hair cuts down on styling time, helps hair stand tall, and makes it easy to straighten hair. your head and work your way down. I always say your hair is your crowning glory so any time you spend on it is time well spent.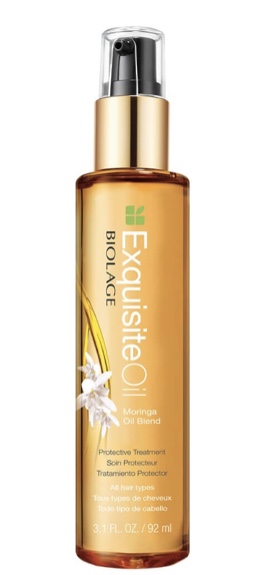 By giving it that extra TLC you'll have soft, smooth, and shiny hair that just needs a touch of product for all-day hold.
Have a great hair day
Anna x
April 2021
Happy April.
Its great to check in with you all again. A quarter of the year has flown already.
The clocks have sprung forward and we are almost out of lockdown 🎉hooray for all of that except how fast the year has gone bye, that's just crazy fast…
This month I wanted to talk a little about our re opening plans and a bit about trends to give you some ideas while you thinking time until we open.
So first things first:
Our Colabella salons are still due to re open on Tuesday 13Th April 2021.
It goes without saying that our usual high standards of safe practice and hygiene control will be as meticulous as always. We will still require clients to wear face masks or coverings to offer safe practice for all.
If you have not yet booked in yet then please call the salon line as soon as possible, all the contact numbers are on the answer service. Feel free to call us even before we reopen.
We are booked up and busy but we will do our best to book all new appointment request but the sooner you call the better.
REGARDING SKIN TESTS
If it has been over six months since your last colour or you have box dyed your hair, had micro blading or had an allergic reaction during lockdown, you will need a fresh skin test. If you need a fresh test, book that first and at the same time book an appointment to have the colour done when you are booking your skin test. Please be understanding when you are asked to attend for a skin test, some of the team get such a hard time from callers but they simply cannot bend the rules. Most clients understand but some object and there is no way around this.
I have said lots of times in previous blogs and I don't mean to be a parrot but I had hair colour all my working life then out of the blue massive anaphylactic shock, rushed to hospital and thank god I was resuscitated and the rest is history. Don't gamble with your life for the sake of coming in 48 hours before your colour.
FEEL GOOD FACTOR
The power of having great is a real feel good factor.
At the first sign of wrinkles or ageing, many rush to the dermatologists for fillers botox and miracles creams but wait… there is another way.
A change of hairstyle or hair colour could be just what you need to take years off you. If you are stuck for ideas or you are in a hair rut, check out popular celeb hairstyles. You can book in just for a consultation. Its better to do that than to book in and then there not be time to sit and look through styles ideas with your stylist.
A style and colour change can pick a real pick you up and make you look years younger.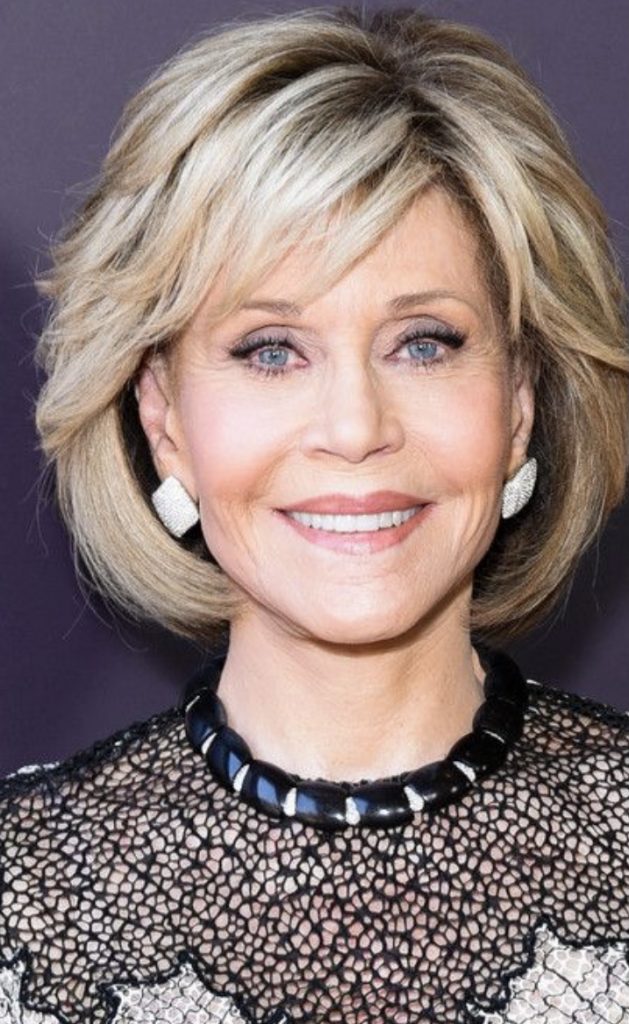 You have only got to look at Jane Fonda to see how hair and fashion combined can take years off.
EASY WEAR STYLES AND TRENDS
The undone bob will carry on being popular this year, this a great style as it can work for a variety of lengths.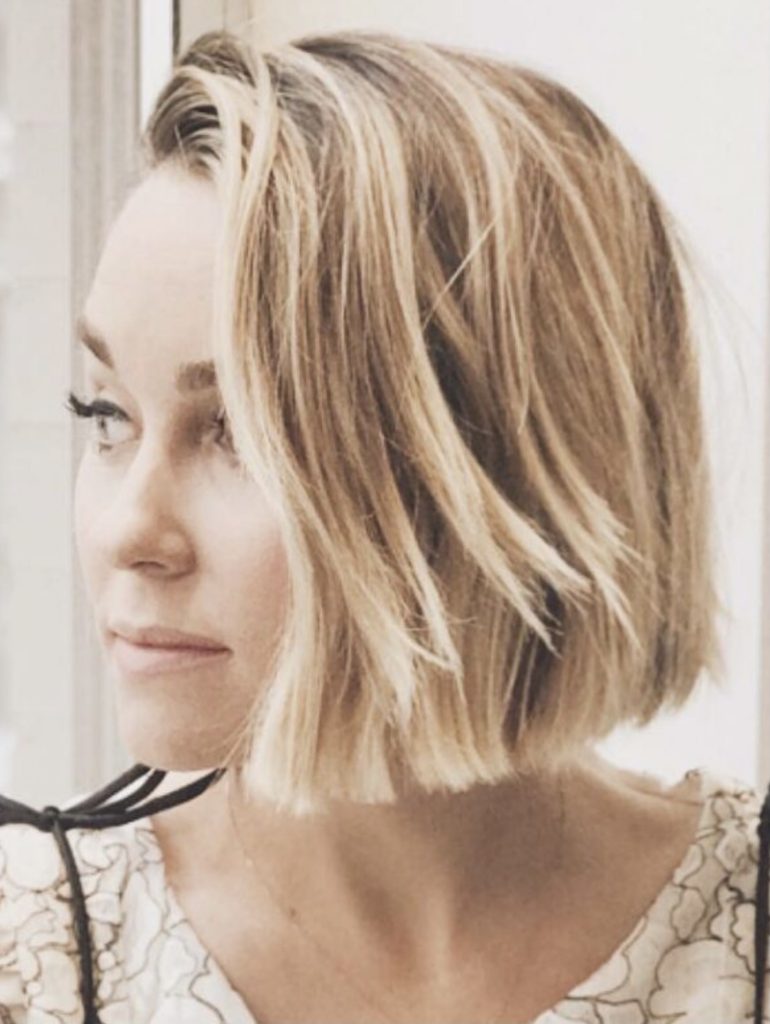 Choppy bob, sleek bob and bouncy bob can all be styled from this cut.
A highly popular style that many clients keep it on going for years. Its very versatile and even if you want it just long enough to tie back, it works.
I really like the all one length bob or just a slight layer to the front and the rest one length, it gives a 90s feel which is very in right now, with the more bold and panelled hair colours that were popular back then.
Bob trends have moved away from the 'dainty' bob and are being worn with a lot more shape and texture. It's such an easily maintained cut that is super stylish you can dress it up or down and requires minimum effort to maintain the style at home.
Easy hair is the thoughts for 2021 and no prizes for guessing why…but hopefully we wont get lockdown again any time soon.
Better to be prepared though now that we know the drill.
I love long glamour hair and it never really goes out of trend, this year very long layered hair is appearing in many of the fashion mags and its not easy to keep hair long and strong.
It takes work to keep your hair living long enough to get that length.
With heat and chemicals many people struggle to get that extra long length they desire.
As our hair gets older it gets more tatty on the ends and thats the main reason clients struggle to get length. Its better to have once centimetre cut off every six week than to leave it for a trim twice a year and wonder why it wont get any longer.
Short answer: Its fraying and breaking away, yes thats all it is.
Unless of course your have chemical damage but done correctly hair colour wont damage your hair. Swapping colour to colour and having colour strippers etc will but if you want natural very long hair something has to give. You have to aim for condition and strength so it gets a chance to reach that long length. Having it trimmed will not slow that down but continued breakage will.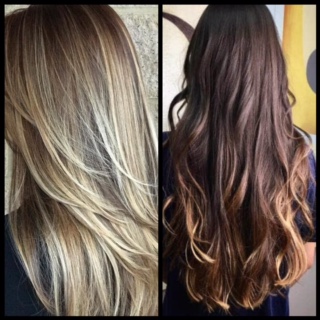 HAIR EXTENSIONS
An option if you want long hair yesterday are tapes and bond extensions, these are good and when done correctly will not cause damage. We offer hair extension services at Colabella, Kirsty is our specialist so its an idea if you are thinking of going down that route of extra long look via hair extensions then book in for a consultation with her.
There is a small deposit for a consultation but it is refundable when you attend or give a full 24 hours notice to cancel the consultation.
So if its by hair extensions or the natural route, if you're looking to stand out with your long hair, it's time to take care of those ends. Regular trips to the salon for a trim plus a good haircare routine at home will see to it that your hair grows and maintains the best possible condition.
BEAUTY NEWS
We are expecting the trend for nails to stay natural. Nail extensions will always be popular for the die hard talon style lovers but many of us are staying with Gel Polish Shellac to grow the length with our own nails, without having the tips bonded on. When done well and without the use of nail drills nail extensions are fine but be careful if you have the drill method as it can cause deep infections and long also term irreversible damage to the nail bed.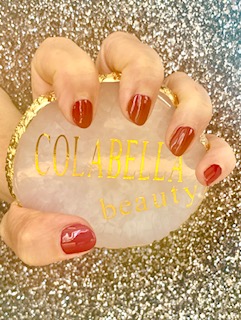 IN THE BARBER SALON
In the barber salon we will continue to see the skin fade for a while longer, it gives longevity to a cut. The skin fade is a sharp clean look that is very popular with all age groups.
We touched on it in previous blogs but the man perm on top only is still trending. Permanent waves also known as a perm is a method of chemically curling hair. The perm can last 4 to 12 weeks depending how curly it has been wound.
It does not require a skin test as there is no PPD chemicals in perm lotion. It does take a bit of getting used to for the styling and the use of products that suit a perm.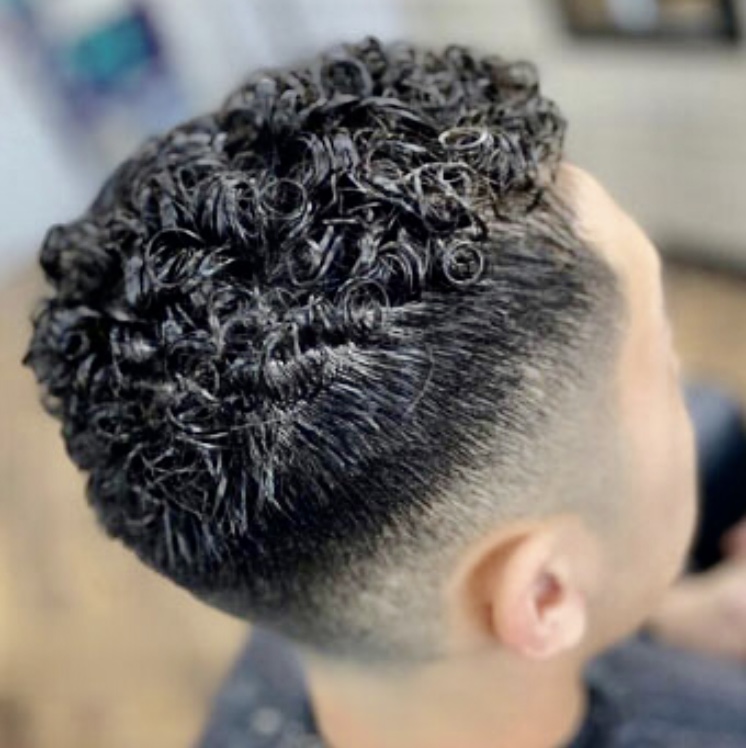 The LLLT ( low level laser therapy) clinic will be available again as soon as we re open. Ren is the best person to book a consultation with for this. This treatment is aimed at any one who has thinning or shedding hair that would like to maintain and improve the hair loss.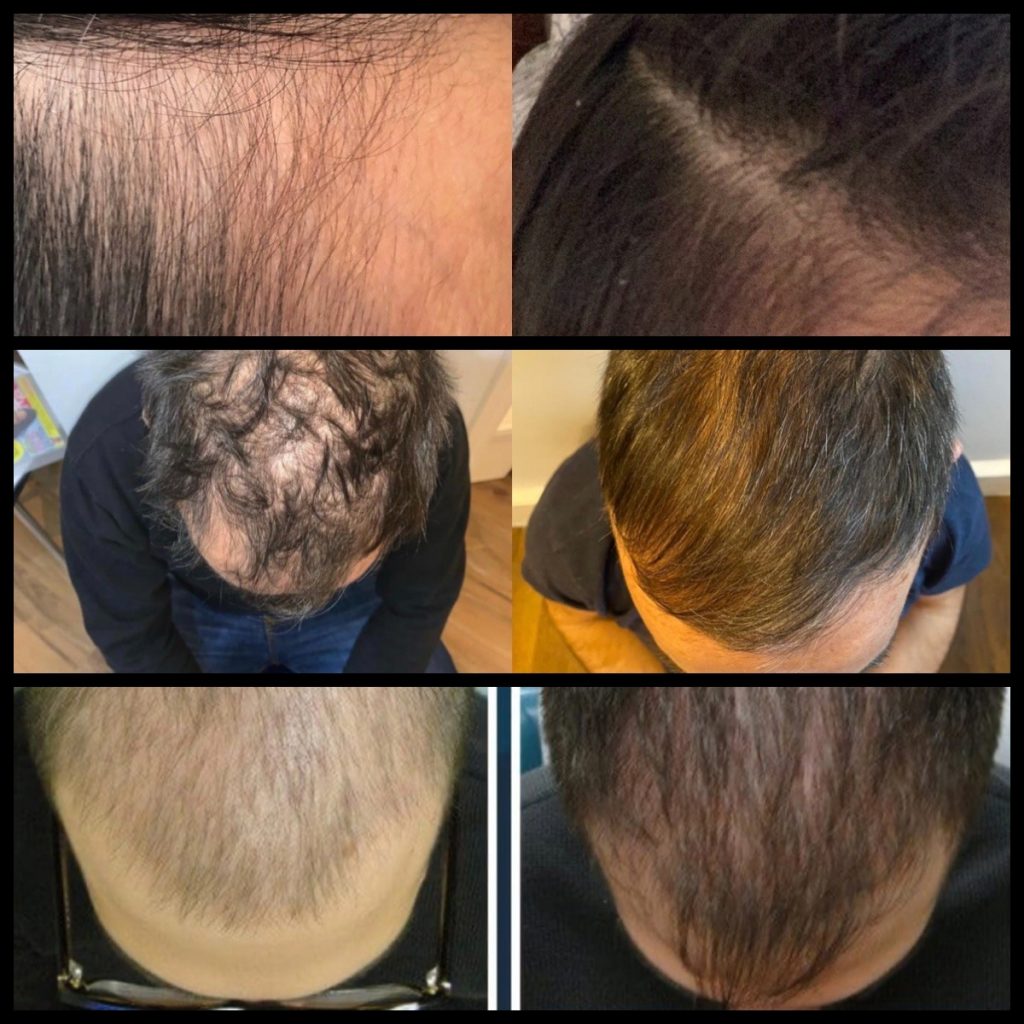 It is a safe non invasive treatment when combined with specific natural hair products via the Mark Birch range, can give the best scalp environment to slow down hair loss and improve new hair growth.
This service is available at our Bilston branch and by appointment only.
Our trichology knowledge can offer support and advice on your concerns with hair loss or thinning hair. So that all being said, have a great few weeks and all of us at Colabella hair and beauty look forward to opening our salons back up very soon and welcoming clients old and new through our doors.
Happy hair days
Anna x
March 2021
Spring is in the air and we are all twitching to try get back to life as we knew it. It may never quite go back to that but we certainly have been lockdown for long enough and due to how long we have all been locked out from salons, it's only natural that many of you will have long root regrowths. Now we have a re open date it's time to think about what you fancy to bring your lock down hair back into glory… If all stays the same we will re open our salons on Tuesday 13th April… Why not the Monday I hear you scream. I have to think of my team and having now been through this already I cannot risk burn out for my team. We will extend our opening hours on some days so don't worry everyone will get booked in. Keep an eye on here and social medial if there are any new government announcements if things do change we will update our information. So now that we are on our road out of lockdown, lets be hair appointment ready. Many of you that went for a root drag or balayage are very glad you did 🙂 if you didn't then it's a great time to opt for a balayage look next time you are in salon for your colour and this is why… It's low-maintenance option for our clients and gives you a little extra time to decide if you are going to go for that colour change you have been wanting for a while. When it comes to colour change the more natural root area we have to work with, the better the result. Trying to do a bleach colour strip on a full head of colour is something we get asked a lot to do. We always proceed with caution and lots of advice for what you should expect. The reality is that it takes months and many salon visits for this kind of work to get you the end result you may want. Many times clients just give up part way through as the time and expense it takes for some people becomes more than they can deal with. This is another reason why a Balayage is a great option for clients. Balayage and long root drag blend with your natural base colour which means the regrowth does not make you feel to reach for those dreaded box colours. A colour melt is also another version of balayage where the roots are darker and melt into a balayage this also can be called a root drag. The up keep is much easier also leaving room for a cut & treatment in between colour appointments this is something we alway advise clients to do. Many of you have already made the switch and are enjoying the easy to maintain balayage while we are still in lockdown. Even though balayage is a low in maintenance colour option in that it doesn't require 6 week colour visits to the salon, as I mentioned above this gives you room to show your hair some extra love. If you are an existing client you will know how much we stress and recommend clients use salon treatments to ensure the condition of your hair is at its best. Healthy hair not only keeps its colour longer but it's allows you options if you do fancy a change, so it's vital to maintain the core strength of the hair bond. The bond is like any chemical compound on earth, it can stretch and break when under pressure. Hair clouding no matter how well it's done can affect the bond. This powerful image shows what happens when the outer cuticle gets slightly damaged right through to what happens when hair is so fragile the bond is completely broken and hair breaks off… We see this happen and when a client comes in hair that has broken to two inch long or worst gone all over even after all these years it's a real shocker. So not to over make the point but hair is just held together by bonds. To keep them strong be it from colour heat or just wear and tear, having a professional salon treatment in hair condition credit in the bank for future protection. Especially if you are guilty of not getting your hair trimmed as regularly as perhaps they should. Again a balayage although is a lightening service, it gives more time for your hair to rest in between colour appointments. Let's face it all colour can fade or blondes go yellow so having a toner and a treatment instead of a colour is another great way to rest your hair but give it a freshen up and it's important that you use the right products that keep the colour true. Our products and favourites are always recommend on our social media and you can have a hair product health check any time. This is best done in salon but you can book a free consultation for this. Some times clients call for advice but on the phone it's not the easiest way to recommend products as we need to see your hair. Buying cheap is a false economy some products contain plastics that just make a plastic build up on your hair that eventually makes hair colouring or styling very difficult. The next image is of a clients hair after we have given is 4 rounds of shampooing to try to remove the build up. I won't say the brand but trust me you will all know it as it's sits on every retail and supermarket shelf just at eye level as it commands that spot due to its cheapness and popularity. It's shocking to see how the plastic beds into the hair and it takes a lot to remove. You can imagine the difficulties we have to try and colour hair through this kind of hard deposit of plastic. The better your hair care and routine the easier it's is for you to look after your hair and hair colour at home. Again a balayage or root drag allows this because of the time it gives your hair in between services…it's a huge thing if a business is trying to guide you away from high money making 4 to 6 week colour visits but I'm really giving this advice from the heart. As a business we need our regulars and regular colour jobs to keep finances coming in and us able to trade but think about this…you have options. You don't have to get stuck in that rut of hating your roots each time they come through. Have a good think between now and when we re open if you actually would like a change. If you do make sure you come in before your appointment to chat as if you just book a colour then on the day want to talk about the change it just won't be viable due to the time slots we work to. Book a consultation a few days before and try to come in with clean hair so we can really asses the colour and condition… The balayage works better on hair with some length but it can still be done on shoulder length hair and it can be tailored to any individuals' hair length, texture and style. A root drag can still be done on short hair so that's an option if you have shorter hair. We have ways of working depending on our client's needs what ever the length. The reason this look is staying on trend is simply down to how easy it is to upkeep. With the lockdowns and all the time salons have been closed it's forced many colour clients into a natural version on this look and I think it will be here to stay for the foreseeable future. So let's hope that the natural (can't get to my hairdresser) root drag look will be a thing of the past as will lockdown and just pray that the world will learn from what has happened so that we do not have to face anything like this again. Our phone lines will open on 15/03/21 at 10 am so call for bookings we will not be taking text appointments and if you e mail we will get around to everyone but the quicker route to get booked in is to simply call…all numbers are on this web site and social media. We look forward to seeing you all soon Have a great March anna x
February 2021
So as this year unfolds, for those of us who are forced to stay home from our workplaces some of us have become slaves again to our comfiest clothing, forgone are our morning hair and makeup routines.
For me the lockdown bun has taken up permanent residence on my head…
I don't mind except I do love having my hair set on big rollers and it to be all tousled and bouncy. I have super fine hair so it does not appreciate being scraped into a bun or pony. As you may know if you have read previous blogs any hair does not appreciate tension on the roots…hence best to go for the baggy bun or pony tail. If you keep pulling it back tight you will without doubt subject your root living part of your hair to some times damage that can take a long time to correct…the joys of having trichologist knowledge. Yes but it's true so be nice to your living part of your hair, with that being said, also be nice to it once it pops out the scalp and spends years accompanying you until it one day it sheds away without you even knowing, unless of course you see it as it says farewell and lands on your shoulders or the sink…let's be honest there's nothing worse than a bad hair day, all of you with good thick hair…your blessed.
As a result of this I am pretty sure the low fuss air dry styles of hair will be all the rage in 2021.
What does this mean?
Well…It's a haircut that uses invisible layers that vary in length, and means that you can leave your hair to dry and embrace your natural texture, as opposed to having to rely on straightening or curling.
If I am honest It really isn't a bad thing as it brings out the best hair condition.
This works on every individual texture but if you have a bit of natural kink or wave you are on to a winner.
It's still not bad for those of us with straight hair as long as you have a lot of layers chopped in to give some texture but in this age of low fuss everything, we want cuts that fall into place and require very little work on our part.
So If last year focused on natural texture and no-fuss hairstyles, 2021 is gearing up to be all that and then some…
Nice and natural with long grown out fringes falling into middle partings and diffused root colour drag so that during more lock downs it's no real biggy if you have roots while your salon is closed. Let's face it we just don't know when and if more lockdowns will come so best to plan ahead from now on and talk to us about low fuss low maintenance hair styles and courts. Many of you already did so hopefully this current loads down has been more manageable for you from a hair maintenance point of view…
For the guys, well again let the length flow.
It's not for all you guys but it's a nice soft lengthy look Brad Pitt is wearing here and very low maintenance indeed.
I know it's easy to look this way when the summer sunshine is beating down on you but take away the shades and it's still a great winter look with a bit of hair around your neck to keep you warm 🙂 The other option is just to slick it back with wax until we get the go ahead that we can re open.
Speaking of which….
No, we have no idea yet of when we can re open. We only know what you guys know which at the moment is nothing !!!
Our best advice is as soon as you hear the news updates saying salons can open. Call us and book your appointment.
We will update our social media as soon as we know any more info and as always we will do our utmost best to get everyone booked as efficiently as we can…
We have been told that on 22/02/21 the government is going to make its first announcement about coming out of lockdown but we still have no idea how that will look. I guess it's just going to be a case of looking at the numbers…
Kirsty has worked wonders preparing the on line shop and that's now open so it's very easy to stay stocked up on hair care…
It's all up an running so If you are low on hair products pop and take a look at our shop…we are still also operating call and collect or click and collect or as I said delivery from our web site shop. We do price match so if you see something let us know and we will do our best to match or better the price.
Hips fully next blog we will have some good re opening news but until then do look after yourselves.
February is a tough month it's always so cold, I'm a February Aquarian and it's always freezing around my birthday time, so do try to stay positive, stay well, stay hydrated, stay moisturised, stay active, stay food healthy and stay safe..
Happy February
Anna x
January 2021
As we step into 2021 and 2020 comes to an end, little did we know when it started what a year it would turn out be and what was about to. Ren myself and all the team at Colabella hair & beauty want to say thank you.
You have been so understanding and supported us through the open and closures that COVID 19 caused, we have had many messages of support and the interaction of our social media, the kind words and the love we have felt from many people, we really thank you for all of it.
We plan to "keep on keeping on" which is our family and business motto and we look forward to another chapter in our journey.
During 2020 all of our worlds changed and changed fast! We didn't have much time to even process the changes, we were all thrown from the normal into what we have quickly learned to be the new normal. I think we all deserve a pat on the back for following the rules and doing our bit to stay safe and reach out to help people that needed it. Many acts of kindness and community spirit were shown which gave help and support to people that were in need, not just in need of stuff but also in need of love and care. The NHS has been shown a new level of appreciation and value, as have the workers on all front line key worker roles. Its been nice to see the love being shown but very sad for all the lives lost…
Many of us learned that we need less and to appreciate more.
Over the last 12 months the salon went through changes as we do every year.
We are proud that its 36 years since the first Colabella salon opened and every year we hope to grow and shine more.
The last year has been challenging but as a business we have still continued to move forward, staying focused and pushing on and we are very proud of that. There have been some very positive changes and new services rolled out which in such difficult times is amazing.
We have employed new members to join our fab team, which have brought a new dynamic to the personalities in the team. We had two previous staff return to us after having had career breaks, we offered places to new apprentices and our current ones qualified up to styling. Our team even managed to get some new skills under our belts as we did continued learning from home during lockdown.
We launched the Laser hair loss therapy clinic and trichology training for our team.
We relocated the beauty nails/sun bed shop in Wood street in to a beautiful new salon with internal connecting door to the hair salon, that really was a great move for us and made it a lot easier for clients to get beauty services done while they were having their hair done.
We also added a range of new holistic therapies to our beauty department…
All that during a pandemic and the heart of the business continued to beat, even when we are in lockdown again now we are still busy planning and focusing on the future.
As the new year starts it is the perfect time to look back on the previous year and discern what it has taught you. I can only speak for my self but I have learned a lot this year and I hope to build positively on what I have learned…
Regarding salon re opening, currently we do not know when we can re open but we will be sure to keep you all updated of our re open plans.
All thats left to say is thank you again from Ren & Myself and we pray for a blessed healthy and peaceful year ahead for us all…
Happy new year..
Love and light
Anna x