We are pleased to announce that we now have our own hair loss clinic here at Colabella hair and beauty working alongside Mark Birch who is one of the world's leading experts with over 35 years' of international experience in the field of hair and scalp care.
Born into a long line of family hairdressers in West London, he studied Combined Science (Trichology) and graduated as Trichologist in 1985. Mark is the only Trichologist allowed to treat both men and women in the United Arab Emirates, appointed by His Highness. Mark also has City & Guilds in hair dressing. Today Mark is a Fellow of the prestigious Asian Society of Trichologist.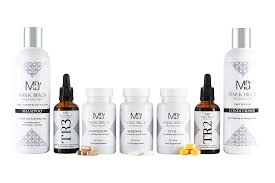 The Mark Birch range of products treat the cause of hair condition problems rather than the symptoms. For example treatment of Alopecia and Eczema hair loss remedies are some areas our hair loss treatments target. Mark Birch Hair loss product lines include VitB+ and Antioxidant to name a few.
Our hair growth treatment products are the state of the art solutions when it comes to complete hair and scalp treatments.